WE TRACK AND MANAGE MILLIONS OF ASSETS
Track everything from laptops to lawnmowers
Our flexible technology can be shaped to fit your specific asset management needs.
Your business is unique, and so is your stuff. We understand this problem, so we've designed asset management software that can track anything and is highly configurable to the way you currently manage your equipment. We believe that better asset tracking leads to better business performance – you keep your stuff nice, you know where it should be, and you prevent losses and damage.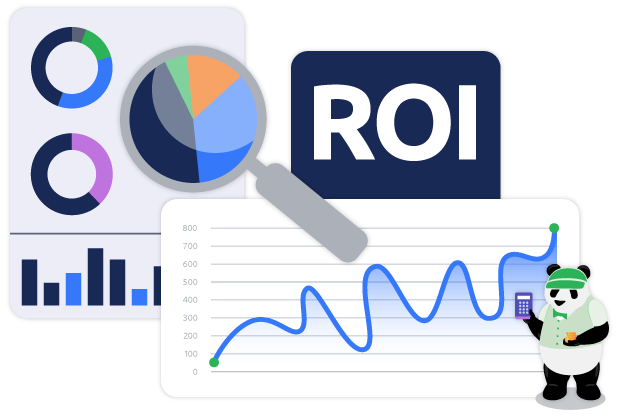 It pays to save time
Our average client sees an 800% ROI in saved time alone*
Right now, you probably spend way too much time dealing with asset management – perhaps more than you even realize. With Asset Panda on your side, you can potentially see savings that are eight times what you spend with us from all the time you're able to get back (and that's before tax savings or reduced asset losses are taken into account).
*Based on customer feedback of hours saved multiplied by an average hourly wage of employees responsible for asset tracking. Actual results may vary.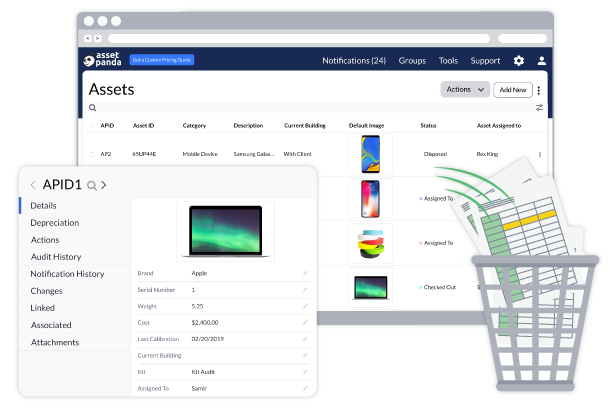 Smarter than the average spreadsheet
Our asset management software puts the whole picture at your fingertips
Put a Panda on it, and you won't have to sift through cluttered asset management spreadsheet records anymore. With our consolidated asset tracking software, you'll be able to see full action histories, warranty information, user manuals, and photos all in one convenient place.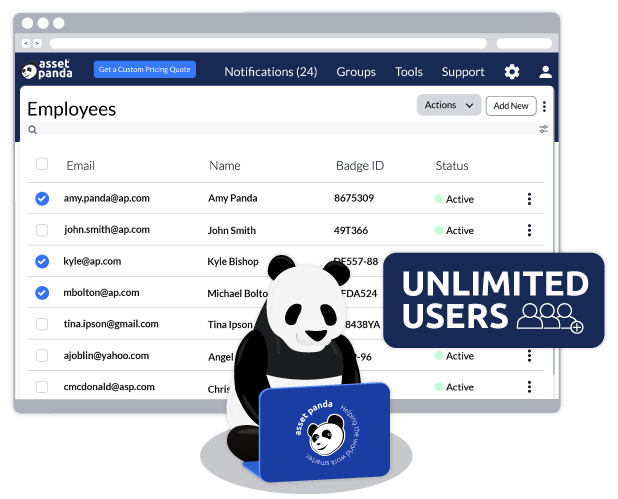 Get your team on the same page
From the board room to the stock room, our asset tracking software can be shared with everyone in your organization
Our asset tracking software can be accessed by as many people as needed. This means your executives can easily view reports, your managers can see asset history, and your front line workers can manage assets on the move.
Every business has assets, we can help you manage them
See what you can do with our asset management software

Manage assets from anywhere
Add the mobile app the Android or iOS devices you already use every day.

Support your workflows
Enhance your workflows with custom actions for faster and easier asset updates and management.

Speak your organization's language
Create custom fields that put your data in your language, making it easier for everyone to get on board and showing you only what's necessary.

Consolidate asset history
Full audit trails provide enhanced accountability and forecasting for every asset.

Provide custom notifications
Everyone stays informed automatically for improved efficiency and planning.

Enable role-based access
Get enhanced data security and simple onboarding for every job function in your organization.

Show record-level attachments
Get faster asset identification, easier access to vital asset data, and better employee self-service.

Use built-in barcode scanner
No more need for expensive and bulky barcode scanning equipment that's incompatible with other devices.
Learn more about what we're up to lately