Step 1
Configure the platform
With unlimited fields and configurations, you decide how Asset Panda's intuitive interface functions for your unique needs. Quickly integrate with legacy systems and seamlessly import data from existing spreadsheets.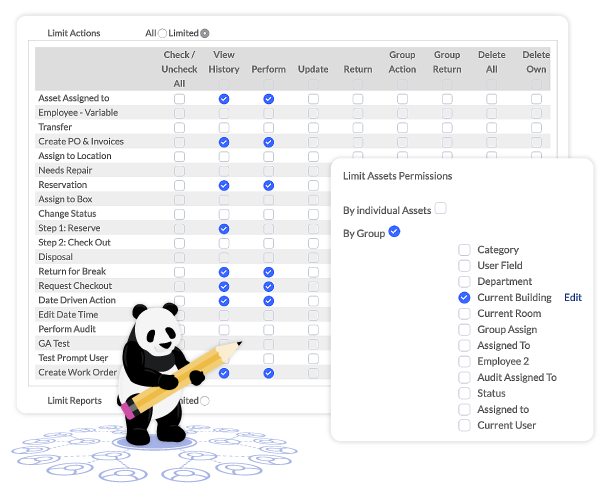 Step 2
Assign Permissions
User templates enable you to define role-based activity so your team interacts with Asset Panda in ways that are relevant to their responsibilities. Protecting sensitive data, improving accountability and increasing efficiency.
Step 3
Track Assets
Whether online or through our Mobile App, you and your team have on-demand access to asset information anytime, from anywhere, on the smartphones, tablets and computers you're already using.

Unlimited Users
Maximize adoption and optimize data collection.
800% ROI
Our average client saves 8X what they pay for Asset Panda.
Unlimited Configurations
Adjust the system to your needs, not the other way around.
Explore all of our features

Asset assignment
Assign assets to users, job sites, and vehicles to enforce accountability.
Asset kitting
Bundle equipment together to rapidly perform actions across multiple assets.

Barcode generation
Quickly design and print your own custom barcodes and QR codes to simplify asset lookups across your organization.

Check-out and returns
Custom actions to deploy and return assets and keep everyone in the loop with past-due reminders and up-to-date data.
Compliance tracking
Use record histories to reinforce established guidelines to keep you in compliance for warranty, insurance, and government requirements.

Contract management
Get notified when equipment and technology contracts are set to expire for smooth renewals or renegotiations.

Full lifecycle history
Get better reporting, visibility, and forecasting with a full history of your equipment.
Funding source tracking
Uphold compliance with grant requirements for use and disposal to ensure future funding.
Maintenance tracking
Extend the life of your equipment and keep it under warranty with scheduled maintenance notifications.
Repair tracking
Simplify repair requests and fulfillment to get your equipment back up and running quickly.

Service contract tracking
Be prepared when service contracts approach their end dates and track satisfaction with service vendors.
Signature capture
Enforce accountability throughout your organization by digitally capturing signatures at any point in your workflow.
Software license tracking
Reduce user license fees by keeping a full record of software assigned to machines and users.
Straight line depreciation
Save money by writing off the gradual dropoff in the value of your assets over time.
Ticketing
Speed up repairs and keep everyone in the loop with tickets submitted directly from desktop and mobile devices.

Record-level attachments
Attach photos, manuals and warranty information to each equipment record for faster troubleshooting and easier identification.
Action-based forms
Gather the data you need at the push of a button with custom check-out forms and maintenance checklists.
Asset listing view
Get an overview of your assets with the details you choose and easily apply filters or grouping.
Calculation fields
Build custom calculations on dates and numeric fields to get the data you need instantly.

Client-defined workflow actions
Use pre-built actions like check in/out, repair, transfer, and dispose to quickly update your asset records or define your own actions to match your workflows.

Configurable audits
Get full data accuracy with audits that can be scheduled, assigned, and completed with ease.

Custom fields
Capture unique custom data like purchase details and insurance information in fields you define for each item type.
Custom groups
Track exactly what's unique to your business with groups like assets, employees, buildings, and more.
Custom reports
Detailed asset history reports available in CSV, XLS, and PDF formats and sent automatically when you need them.
Field requirements
Ensure data integrity by setting required fields, enforcing ranges, and limiting list selections.

Notifications
Give users a heads up via email or push notification when maintenance is due, actions are performed, or fields meet your defined criteria.
iOS and Android Compatible
Access and update your asset information from your iOS or Android mobile devices.
Full integration with web app
Use a robust web app with full administrative features or access and update your data on the go.

Built-in barcode scanning
Use the devices you already own to rapidly scan barcodes and view or update asset information on the fly.

GPS pindrop
Record the GPS coordinates from your mobile device each time an asset is scanned via the mobile app.
Mobile actions
Run the workflow actions you've defined directly from your mobile devices.
Reporting access
Stay in the loop with downloadable reports accessible directly in the mobile app.
Quick asset addition
Take a photo and fill in details on your smartphone to rapidly add assets into your account wherever you are.
Audit setup and execution
Create and complete audits wherever your assets are from the devices you already carry.

User specific views
Deliver an uncluttered view of only the actions, groups, and fields that are relevant to a user's role.

Sortable columns
Quickly sort through long lists of assets to find what you need fast.

Built-in search
Enter text or scan a barcode to rapidly access asset records.

Mobile and web apps
Get access to the system wherever you are from the device you're already using.
Data import
Easily import existing data on your assets, locations, categories, and more to reduce onboarding time.
Easy record replication
Reduce manual effort by instantly copying records with the details you choose when you acquire new assets.

Unlimited users
Bring everyone in your company into a single system without spending a fortune.
Bulk asset reallocation
Save time by updating multiple fields across a group of assets all at once.

Role-based user security
Limit user access to tools, groups, reports, and more based on their job responsibilities.

Amazon AWS hosting
Cloud-based EC2 hosting with S3 storage, backed by Amazon's global network security procedures.
TLS 1.2 Encryption
Protection for data exchanges at the highest available level of TLS encryption.